About Us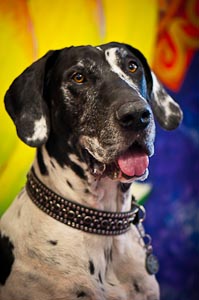 "I treat grooming as an art form. It's fur-scultping. Our
hand-scissoring haircuts and mohawks reflect that. You can
train someone to groom, but you can't teach them to care,"
says Lisa Bodhaine, owner of Euphuria Pet Salon.
Lisa Bodhaine is a native Los Angelino who has been grooming award-winning show dogs and loving pets for twenty-eight years. In 1997, her loyal clientele encouraged her to open Euphuria Pet Salon. In addition to being a groomer, Lisa is an artist and a photographer who encourages and helps support local artisans. The Euphuria pet boutique carries a variety of art objects and handcrafted pet products. Most important, Lisa believes in giving back to the community through supporting local schools, charitable organizations and volunteering her grooming services at local animal shelters. The Euphuria Pet Salon past success rate is unbeatable; every dog groomed from a shelter has been adopted!
Lisa and her partner, Martina, are the proud owners of two rescues, a Great Dane, Mary, and a Treeing Walker Coonhound, Beulah. (You can meet them at the salon.)